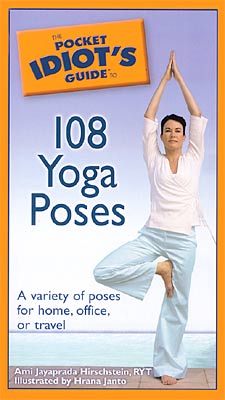 That's not Ami on the cover, it's a stock photo our publishers used.
The interior poses are all drawings of Ami and her yoga buddy Ken. We also did a photo shoot with Ami for the cover --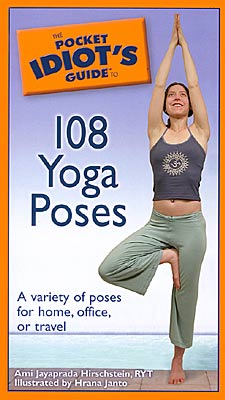 high-res cover
You can print out this alternate cover for your own copy using the link above (it's 2.5MB).
by Ami Jayaprada Hirschstein, illustrated by Hrana Janto
This is a book my dear friend Ami & I created together. Part of the Pocket Idiot's Guide series, the book has detailed instruction, alignment, pictures and routines.

You can buy a copy signed by me from me for $14 (including shipping -- see order form)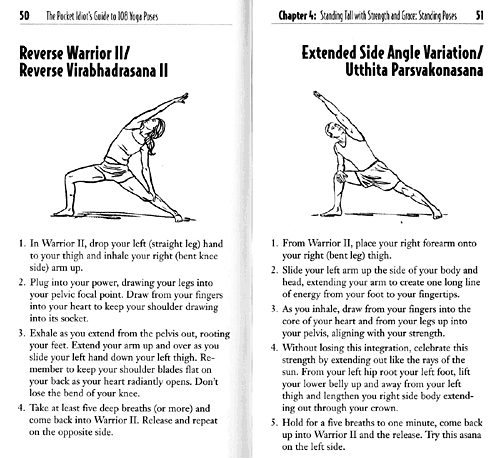 An example spread from the book
Ami Jayaprada Hirschstein is an certified Anusara teacher, a certified Kripalu Yoga Instructor, a certified Phoenix Rising Yoga Therapist, and Co-Director of Jai Ma Yoga Center. She has been teaching yoga since 1995. In the tradition of Anusara Yoga, Ami's classes invite students to embrace their potential and align with their hearts. Ami specializes in therapeutic yoga, teaching her students how to come into alignment and eliminate pain. A student of yoga since 1991, Ami's current practice focuses on Anusara and Iyengar yoga as well as Bhakti (devotional) yoga, Kirtan (chanting) and the study of Tantric philosophy and Sanskrit. She feels blessed by the presence of two extraordinary teachers in her life: Mata Amritanandamayi Devi and John Friend, founder of Anusara Yoga.

Hrana Janto is an artist long inhabiting the realms of Movement & Mythology. Raised and abetted by artist-parents, she graduated from NYC's High School of Art and Design and received a BFA from The Cooper Union. Her commissioned works include historical paintings for the PBS series "Joseph Campbell's The Power of Myth" with Bill Moyers, numerous book covers and calendars. Hrana co-created the internationally published "The Goddess Oracle" deck, featuring her art and calligraphy, for Element Books/HarperCollins. She illustrated the children's book "King for a Day" by Meish Goldish for Pearson. Hrana lives, paints, and dances in NY's Hudson Valley. She is a co-founder of the "The Freestyle Frolic" a local community dance. www.hranajanto.com
---
Back to my home page.